Staziker Jones, approved suppliers to Welsh Assembly Government
We're delighted to be appointed as Graphic Design consultants to the Welsh Assembly Government.
Following a rigorous 2 stage procurement process. The contract runs for a 3 year period and covers all sectors from tourism to trade and industry.
15th June 2010
bigHead website goes live
Following a successful branding project, Staziker Jones has designed and developed a new website for bigHead.
Based in Bournemouth, bigHead Bonding Fasteners Ltd design and make fasteners for a variety of clients including Sunseeker Yachts, Aston Martin and BMW. bigHead approached Staziker Jones to rebrand the business, positioning it for a move into new European markets, and to develop a website which is currently being translated in to Italian, German and French. Check out the snazzy 'build-your-own' section, which does exactly what it says, and have fun building your own bigHead.



7th June 2010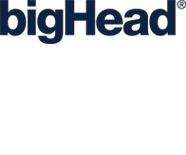 Having presented concepts, we're delighted to have been commissioned to create designs for 'The Puma Story'.
The new publication will chart the rise and rise of the international sportswear brand, and continues our ongoing collaboration with publishing house Marshall Cavendish.
22nd March 2010